In the olden days (about the 1970's) the wires of braces were hard and stiff and were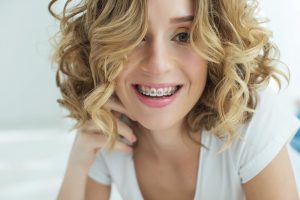 held on my more metal wire (not very attractive!). With improvements in technology and materials, orthodontics has really changed. Nowadays, the wires are lighter and more flexible so less pain is experienced.
Instead of wire ligatures, smaller brackets are held in place with colourful elastic rings, which can be changed each visit (it makes for a more interesting and interactive experience, which the kids enjoy). The easiest 'braces' to place and manipulate are the metal brackets, but alternatively, ceramic (clear) brackets can be placed on teeth.
The most recent development in orthodontics is 'invisible braces'. You may have heard of these under the brand name Invisalign. This is a series of sequential clear aligners (i.e. clear virtually indistinguishable trays) which are removable.
Invisible braces have become popular amongst older teenagers and adults who perhaps didn't want orthodontic treatment when they were younger but now want straight teeth without having to have braces on their teeth. However, it's important to note that invisible braces are not appropriate for all cases – such as severe crowding or teeth not fully erupted (grown).
The aim of orthodontic treatment is not only to visually and aesthetically improve a patient's smile, but to improve their oral hygiene and to improve their bite (function).
At Smile Design Los Angeles we offer a range of orthodontic treatments to provide the best outcome for you, from traditional braces to the newest invisible braces.
Contact us today to see what Smile Design Los Angeles can do for your smile! We offer the most affordable and effective cosmetic dental procedures so you can get the smile you've always wanted. Call our office or request your perfect smile consultation online to get started today!