Invisalign is an alternative to traditional metal braces. Invisalign is a set of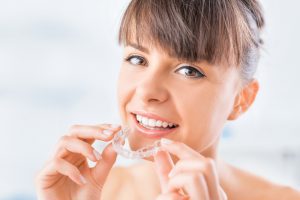 removable, almost invisible braces that gradually shift your teeth into place. They are less obvious than standard metal braces because of their transparency and removable nature.
Most individuals desire better teeth but only see metal braces as the only solution. When you get treatment with Invisalign clear braces, your smile won't be tarnished by unsightly metal brackets or wires of traditional braces.
Your teeth may be comfortably and precisely aligned with Invisalign transparent braces in about half the time it takes with conventional braces. Invisalign is an excellent option for anybody needing orthodontic treatment, whether you're an adult who's been putting it off for years or a parent looking into treatment options for their kids.
How Does It Work
When your first set of Invisalign arrives, you'll need to visit the dental office to ensure that it fits perfectly and there are no other issues. You'll have to wear the Invisalign for most of the day.
You should remove your aligner only when eating, flossing, and cleaning your teeth. The convenience of Invisalign braces is that they may be temporarily removed whenever necessary.
You will visit the clinic every six weeks to evaluate your aligners and see how your treatment is going. These visits also allow the dentist to see whether the aligners or treatment plan need to be modified in any way.
Why Opt For Invisalign?
Fix Dental Issues
Having crooked teeth does more than simply make you self-conscious about smiling. Crooked teeth are a precursor to more dental problems. Gum disease is exacerbated when teeth are either too widely spread or too closely packed, making it harder for the gums to form a healthy seal around the teeth.
The use of removable aligners to straighten one's teeth helps alleviate gum irritation, sensitivity, and foul breath.
More Comfortable
In comparison to fixed braces, removable aligners are much more convenient. Metal braces are the industry standard, but their sharp edges may irritate the lips and cheeks. Also, they may cause painful wounds that are slow to heal. Putting wax on your brace's exterior is possible, but it usually doesn't last very long.
You may straighten your teeth with removable and clear aligners developed just for you. You won't have to worry about sharp metal protruding into your mouth thanks to the high-quality resin used to make their rounded edges.
Fewer Trips To The Dentist
To keep conventional braces in good working order, patients must routinely see their orthodontist. At these appointments, the orthodontist may remove or replace a bracket, alter the gauge of wire used, tighten specific brackets, or even connect certain brackets with additional wiring. The time you spend in the dentist's chair may surprise you.
With Invisalign, you won't have to see the dentist as often. And, when you do, the appointments will be quicker and less invasive.
Get Your Invisalign Now
Keep in mind that Invisalign may not be applicable to every situation. If you want to know if it's the best aligner for your situation, then it's best to call us to schedule a consult.